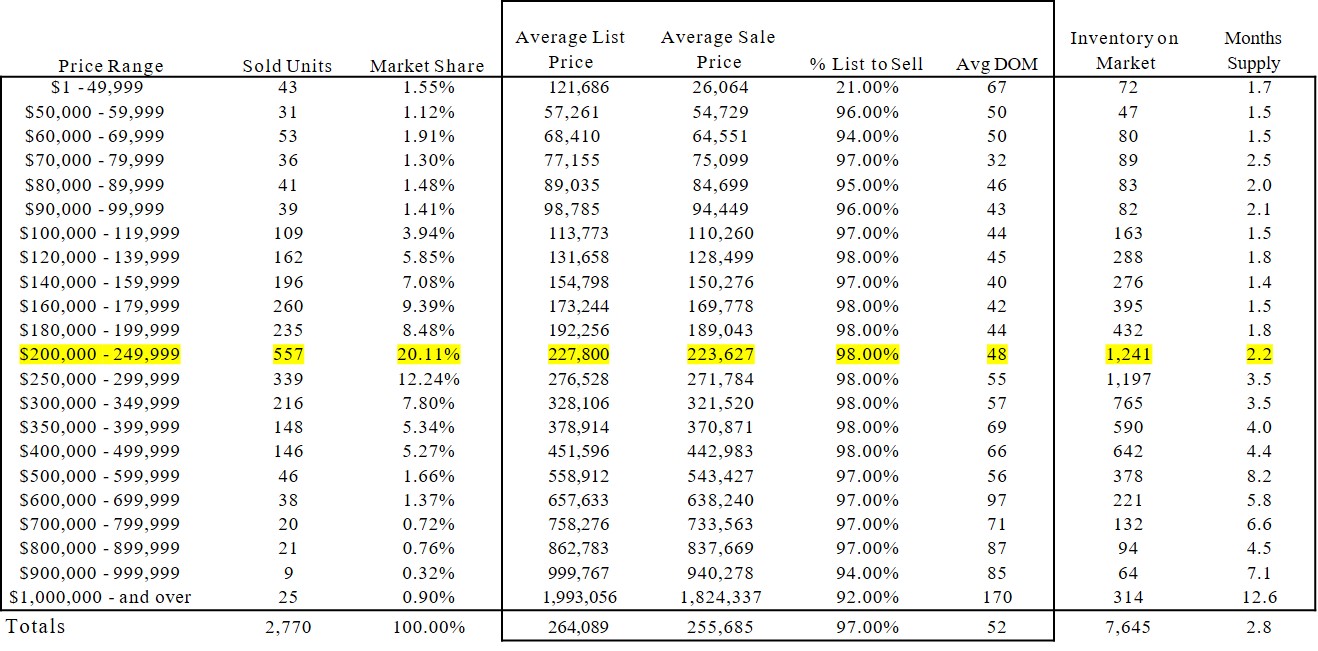 October 2017 Real Estate Market Stats Recap
Homes priced under $599,999 are sitting in a very tight Sellers Market due to very low inventory levels (shifting down two brackets from previous month), while homes priced $600,000 and above are sitting in a Buyers Market with an excess of inventory, having 11.8 months of inventory to sell at current levels.
October has seen a slight decrease of inventory sitting on the market back to YTD current averages. As you can see by the summary totals for the month, inventory of homes on the market are still low and we are still sitting in a very tight Sellers' Market.
We currently have 7,645 homes actively on the market which represents a 27.5% decline over last year's inventory during the same period
The average number of days homes have been on the market was 52 days which is 13.3% better than last year's same period
The average sales price for a home sits at $255,685 which represents a 6.8% increase over last year's average of $239,260. This can be attributed to the tightness of the market as well as overall market appreciation and consumer confidence
2017 YTD homes sold come to 30,022 which is also up by 8.4% over last year's ytd of 27,694
At current conditions, we only have a 2.6 month supply of houses available on the market to actually sell
The last significant metric we are looking at here is the % to List to Sell and that still sits at 97%, which means that overall, Sellers gave up only 3% of their asking price to close a deal. This has been holding strong all throughout the year, as the pricing reflects the market and the inventory remains low, Seller's do not have to give up much in their properly set asking prices
The highest concentration of sales for the month again landed in the $200,000 – $249,999 range with 557 homes sold on an average sale price of $223,627. The 557 homes represented 30.9% of the inventory on hand at that price range with the sellers giving up on average 2%.
From a Seller's perspective, October continued to have a limited supply of houses on the market to be sold, and as such we can expect Sellers not conceding too much on the asking prices of their homes, and in many instances probably entertaining multiple offers. This keeps an upper hand for the sellers when it comes to negotiating on the eventual sale price. If you are currently residing in a home within the $200,000 -$249,999 price range and are sitting on the fence as to moving into a larger home, or perhaps an empty nester looking to pick up a smaller home, this is a very good time to make a move. If you are downsizing and are worried about debt now is the time to get the highest value for your home sale in this Seller's Market. If you are looking to upsell for more space or expanding your family now is the time that you can get the maximum amount of surplus cash to invest in your next larger dream home, especially on the higher end of the housing market since it is creeping into becoming a Buyers' Market.
From a buyer's perspective, if you see a home that you really want, please be aware of the current metrics when placing your offers, because if you come in too low there is a good chance that you may lose your opportunity at picking up the home you had your heart set on. The Real Estate industry historically is cyclical and we are starting to see that we are reaching the peak of the upside along with the very tight inventory levels. Depending on your individual situation it still may be a wise choice to be buying at this time. We should review your individual needs and situation to determine the best course of action, do not stand on the sidelines and do nothing when there still may be very good options available.
As stated this is a high-level look at the area, please give me a call, text, or email so I can go over your own personal objectives and provide you with insight and assistance on reaching your dreams in real estate.
Richard Barba, Broker Associate/Realtor
Keller Williams Realty South Tampa
richard@richardtampahomes.com
www.richardtampahomes.com